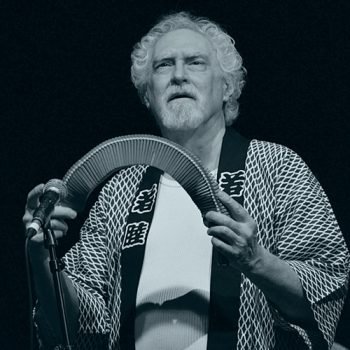 David HUGHES
London, UK
David HUGHES, a specialist in Japanese traditional folk song (min'yō), taught music at SOAS (The School of Oriental and African Studies, University of London) from 1987-2008. He is now a Research Associate at SOAS and at Durham University. His major publications include the books 'Traditional Folk Song in Modern Japan' (2008) and the co-edited 'Ashgate Research Companion to Japanese Music' (2008).
He received the annual Japan Society Award (2011) for "outstanding contributions to Anglo-Japanese relations and understanding", and Japan's Order of the Rising Sun (2017) for his activities in bringing traditional Japanese music to a wide public. He founded the London Okinawa Sanshinkai and the SOAS Min'yō Group, the major groups performing and teaching traditional Japanese folk music in the UK. He also founded the SOAS Noh Group.
David has lived for over ten years in Japan, his main research area; during those stays, he has performed on television, radio and stage over 50 times and has often served (reluctantly!) as a judge at min'yō contests. But he has also written about aspects of music in Java, Thailand and Korea, as well as about musical grammars and oral mnemonics worldwide.
Over the past 47 years, David has taken performance lessons in a wide variety of Japanese genres and instruments, including at Tokyo University of the Fine Arts and Music. His brief formal training in shakuhachi includes four months each of lessons in Tozan and Kinko schools, but he has absorbed folk shakuhachi style through several decades of contact. He has also learned folk and Kabuki shamisen, Okinawan sanshin, various percussion instruments, Noh flute and shinobue flute, as well as a range of vocal styles. At WSF, David will be teaching and performing with his wife, Gina BARNES (shinobue), who has shared much of his journey through the world of min'yō.