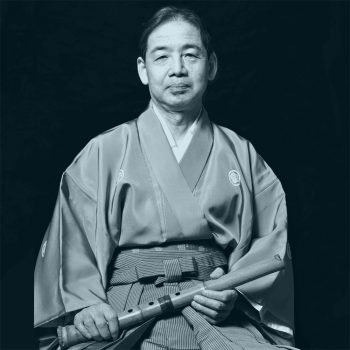 IZUMI Takeo
Kyoto, Japan
IZUMI Takeo was born in 1954. He started to learn Tozan Ryū shakuahchi at University in 1973. From 1988 he studied Kinko Ryū shakuhachi with YOKOYAMA Katsuya. In 1988 he passed the NHK Hōgaku (Japanese traditional music) audition, and in the same year he received his Kinko Ryū shihan from YOKOYAMA.
From 2012, he began learning Myōan honkyoku from KORIYAMA Naotatsu. IZUMI has worked as a curator at the Osaka City Museum of Fine Arts, a researcher at the Kyoto National Museum, and a professor at Tohoku University. He is Professor Emeritus at Tohoku University and also an honourary librarian at Kyoto National Museum.
IZUMI released shakuhachi solo CDs entitled 'Resonances of Infinity', 'Starfrost Passage of Time' and 'Bridge of Sound'. He has also released a series of albums on iTunes entitled 'Samurai Music'. More recently he has published 'Paintings of Bamboo Flutes: A History and Genealogy of Shakuhachi Performance', now both in English and in Japanese.