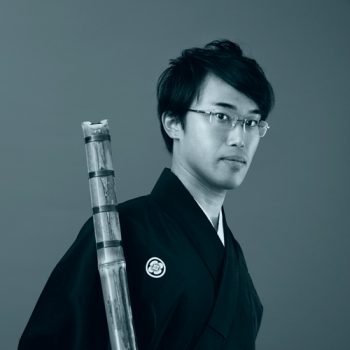 KURODA Reison
Tokyo, Japan
KURODA Reison studied under Living National Treasure AOKI Reibo and AOKI Shouji. He is a graduate of both Waseda University and Tokyo University of the Arts. Passed the NHK Hogaku audition. He won the first prize at the 2nd 'Tone Hidenori Memorial Japanese Music Competition', and has appeared on a number of CDs and as well as NHK television.
In Korea in 2014 he performed Park Beum Hoon's shakuhachi concerto 'Flow' (流) at the Baekjke Cultural Festival. In 2015 he gave the first public performance of YAMAMOTO Kazutomo's shakuhachi concerto 'Roaming Liquid'. He also performed TAKEMITSU Toru's 'November Steps' and premiered a number of new shakuhachi pieces including compositions by Claude LEDOUX at the International Contemporary Music Festival ARS MUSICA.
KURODA is a member of the Muromachi Ensemble, which was awarded the 13th Saji Keizo prize, and also of the Hogaku Quartet, whose first CD was specially selected to be in the 'Noda Teruyuki Japanese Music Collection' for 'Record Geijutsu' (Record Art).