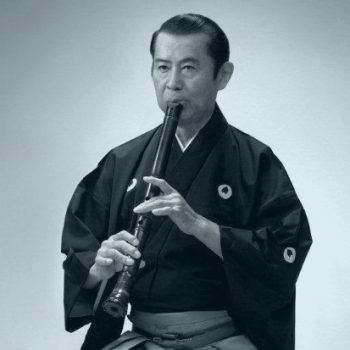 MITSUHASHI Kifu
Tokyo, Japan
MITSUHASHI Kifu was born in Tokyo in 1950 and studied under the Kinko Ryū shakuhachi master SASAKI Sofu and Fuke-shu shakuhachi under the late OKAMOTO Chikugai.
In 1980, he won the National Arts Festival Excellence Award for his performance in 'The First Shakuhachi Recital of Mitsuhashi Kifu' at the National Arts Festival of the Agency for Cultural Affairs. He also received the Osaka Cultural Festival Prize in 1981 and the National Arts Festival Prize for his solo recital in 1989. In 1991, he performed as a soloist with the Tokyo Metropolitan Symphony Orchestra at the 100th Anniversary Concert of the Carnegie Hall in New York and to date has given more that 100 recitals overseas. In 1992, he was awarded the Nakajima-Kenzo Music Prize, the National Arts Festival Art Works Prize for his CD 'Chikurin-Kitan' composed by MOROI Makoto and later released by Sony Records, and won the Yokohama City Cultural Prize. In 1994, he toured Europe with the Tokyo Philharmonic Orchestra as a soloist to wide acclaim. In 1996, he also won the 8th Hida Furukawa Music Prize.
MITSUHASHI's works have been recorded by Windham Hill Records among others and he has been active in organising events and performances overseas and producing CDs. He is also currently producing 'Demon Kogure's Hogaku Restoration', a project for popularizing Japanese traditional music and promoting international cultural exchanges. He is a master of the Kinko Ryū, leader of the Kinko Ryū Kifu-Kai and a member of Pro Musica Nipponia.
Activities at the WSF2018
to be announced