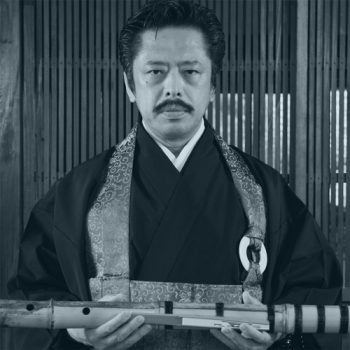 SHIMURA Zenpo
Osaka, Japan
SHIMURA Zenpo studied shakuhachi under SAKAI Chikuho and SAKAI Shodo. In addition he learned the characteristics and performance techniques of komusō shakuhachi from traditional players around the country, and has a doctorate in shakuhachi research, with a particular focus on historical instruments. SHIMURA produced and premiered many contemporary shakuhachi works from 1974 onwards and from 1992 onwards he has been concentrating on 'Cyber Shakuhachi', a project concerned with combining shakuhachi music with the computer.

In recent years, aside from the Zen of sound in which kami (Japanese Gods) and Zen is united, SHIMURA is devoted to playing devotional pieces at outdoor shrines and temples, and restructuring traditional Japanese culture in the school curriculum. Currently, in order to focus on the issue of the heart, he has opened a jinashi shakuhachi research group and opened a shakuhachi museum named 'Shōfū Bunko'.
SHIMURA has published several CDs including 'The Possibility of Jinashi-Shakuhachi, Pray for the Future', (Collection Series 39 – Hamamatsu Museum of Musical Instruments), 'Traditional koto music on tasuke-so with silk strings' and 'The Portrait of Yuji TAKAHASHI' (avex-CLASSICS). Publications in English include 'Techniques and spirit of making the shakuhachi: for an understanding of the two spiritual worlds in existence today' and  'Chamber Music for Syakuhati', The Garland Encyclopedia of World Music, Vol. 7, as well as numerous publications about shakuhachi music in Japanese.