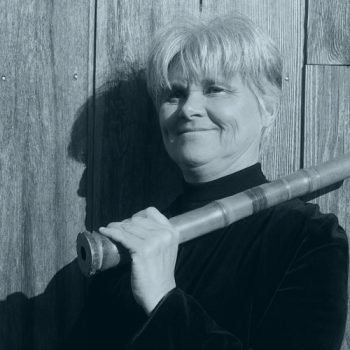 Véronique PIRON
Brest, France
Véronique PIRON, a French flautist based in the west of France (Brittany) with an initial training in classical music and jazz, is a shakuhachi performer and teacher, in the KSK style transmitted by YOKOYAMA Katsuya (firstly in 1992 with YOSHIKAZU Iwamoto in France and also FURUYA Teruo in Tokyo) who awarded her a shihan license in 2002 whilst she was a recipient of a Lavoisier research grant from the French government to study in Japan.
She participated in the creation of the ESS (2006) and developed the teaching of the shakuhachi primarily in the style of the KSK in Brittany, Paris and occasionally in Brussels, and has widely participated in the annual ESS Summer Schools. As a licensed conservatoire teacher (Certificat d'Aptitude) for traditional music, she introduces Japanese music to the French conservatoire system and higher education.
From tradition to creation, Véronique PIRON explores different styles of expression and playing techniques to enrich a new repertoire. She has recorded her solo programme (CD 'Nipponflutes', 2010) and appears in an intercultural new music programme with pianist Lydia Domancich (CD 'Sillage' – Wake, 2015), is starting a new classical trio Yuya with the Yamada koto/shamisen players CHIDA Etsuko and HIHARA Fumie, meets with European composers for new music collaborations (SUZUKI Rika, Jim FRANKLIN, Josep Maria GUIX, Benjamin DWYER, etc.) and explores other musical cultures such as Twain, an international project with taikos based on Belgic/Celtic fusion with Alan STIVELL, CD Amzer 2015.
Véronique PIRON has recently collaborated with the equestrian theater Zingaro conducted by Bartabas as a Japanese bamboo flutes live performer together with Jean-Luc THOMAS (wooden flutes), Wang Li (jew's harps) and François MARILLIER (percussion), in Ex-Anima, a new 2017 creation in Paris which will tour France and Europe until 2019.