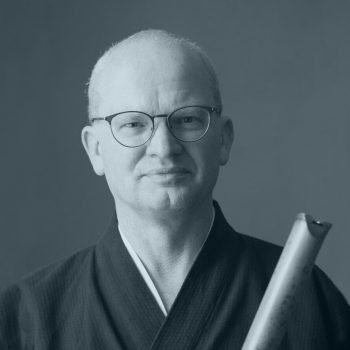 Wolfgang Fuyugen HESSLER
Zürich, Switzerland
Wolfgang Fuyūgen HESSLER belongs to a modern generation of musicians, who's education and work is based not only on the music of one culture. Grown up in Munich he studied double-bass and graduated from the Munich College of Music. Following he worked at the Orchestra of the State-Opera (National Theatre Munich) and the Munich Philharmonic, partly still during his studies.
In Switzerland Wolfgang HESSLER studied the Japanese bamboo-flute shakuhachi in the tradition of the Kinko Ryū with Dr. Andreas Fuyū GUTZWILLER at the Studio for extra-european Music of the Academy of Music Basel. Several journeys to and study visits in Japan took him to KAWASE Junsuke III, head of the Zenkoku Chikuyusha in Tokyo, who performed the shihan-menyō-ceremony for him to confirm the reception of the tradition.
In addition, Wolfgang HESSLER studied with NOBUHISA Ikkei Hanada in the tradition of the temple Itchōken (Hakata/Kyūshu) and with KAWASE Yousuke in the tradition of the Nezasaha Kinpū Ryū. Wolfgang HESSLER lives and teaches in Zurich, performing in concerts and recitals traditional Japanese music (honkyoku and gaikyoku) and modern music as well as with improvisation ensembles.
Influenced by Sergiu CELIBIDACHE, affected by the practice of playing the shakuhachi as an exercise in concentration and respiration of the Fuke-monks in Japan, he dedicates his activity to the spiritual dimension of making music. Leaving behind any concept and construct, any will and intention, making music happens as activity in alertness and concentration, guided by one's proper breath and the almost unexhaustable tone colour of the shakuhachi. IT plays. This is not extraneous to western music, but hardly anyone knows about that nowadays.
Activities at the WSF2018to be announced