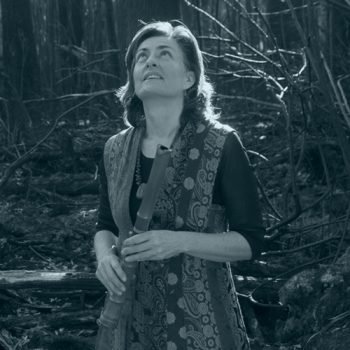 Anne NORMAN
Mornington, Australia
Anne NORMAN is a shakuhachi performer, improviser and composer who, in recent years, has been writing eco-poetry, incorporating spoken and sung word in her recitals. Anne has worked as soloist and in collaboration with a diverse range of artists over more than 20 years of professional work—from opera singers and string quartets to jazz artists and comedians.
Anne performs traditional and contemporary Japanese, European and Australian art music and revels in free-form improvisation with musicians of various cultural heritages. She has given recitals with 21-string koto player IZUMI Fujikawa and has also explored Baroque repertoire with harpsichordist Peter HAGEN and Byzantine inspired compositions with Nick TSIAVOS. Anne also released a CD of music with beatboxer REO Matsumoto and didge player Sanshi. Anne has recently been writing new music with violinist Emily SHEPPARD, composing in forests and caves to reflect the natural world. She has performed in Australia, Japan, America and Europe and premiered various chamber works for shakuhachi by Australian and Japanese composers.
Anne received a Monbusho scholarship in 1990 to study shakuhachi performance at the Tokyo University of the Arts under GORO Yamaguchi following several years of shakuhachi studies with NAKAMURA Shindo in Kobe and TAJIMA Tadashi in Osaka. Anne also has a B.Mus on flute (Melbourne University) and an MA in Ethnomusicology (Monash University).
For the last three years Anne has collaborated with songmen in Arnhem Land and been Artistic Director of Tunnel Number Five: Festival of underground music in Darwin, featuring a range of musicians and styles with an emphasis on a collaborative improvised response to the acoustic of the tunnel. Anne has also performed as raconteur/musician in her shows 'Nonchalant Bombasi-tea' and 'An Afternoon Absurdi-tea', performing in the OzAsia Festival with nine supporting musicians from Tibet, India and China. Anne has produced many CDs and has featured on other artists' albums and several film tracks.