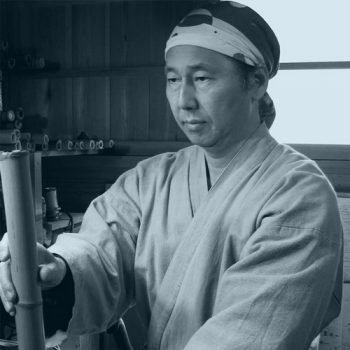 DAN Shinku
Tokyo, Japan
DAN Shinku was born in Tokyo in 1955 and has been playing several instruments since childhood. In 1978 he entered TAKAYANAGI Masayuki's school Renjuku and his main interest shifted towards improvised music. He began to perform improvised music on guitar, moog, synthesizer, saxophone and bamboo flutes.
In 1985 DAN was deeply moved when he heard the exquisite music on TAKAHASHI Kuzan's LP 'Také no hibiki' or 'Sound of Bamboo' and immediately stopped all music activities. He aspired to become a Fuke sect shakuhachi player and began making shakuhachi instruments. In 1987-88 DAN while on a pilgrimage in India, he made a decision to formally learn Fuke shakuhachi and became a student of Kuzan's successor FUJIYOSHI Etsuzan. In 1992 DAN worked on recording his teacher Etsuzan's CD 'Reibo'. In 1993 DAN participated in Sengawa Kikaku project organised by the late YOSHIDA Oshu and performed throughout Japan. Since then he has performed at Buddhist temples and live houses and hosted shakuhachi making workshops.
DAN recorded the CDs 'Voice of Juki, 'Ondo Mandala', 'Koku', 'Reibo' and 'Mukaiji'. Since 2012 he presents every year a solo exhibition during the month of May. He is presently writing on shakuhachi making, breathing techniques and discourse on writing.