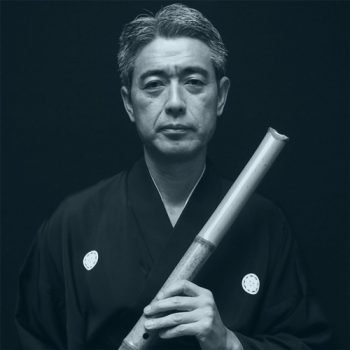 KAKIZAKAI Kaoru
Chichibu, Japan
KAKIZAKAI Kaoru studied shakuhachi firstly under SAITO Seido and then from 1982 onwards under the late YOKOYAMA Katsuya. He has won the Japanese Hōgaku Music Nationwide Contest in the shakuhachi division. He passed the 3rd Victor Audition for Japanese Music. KAKIZAKAI has performed at the first World Shakuhachi Festival in Bisei, Japan in 1994 and since then in 1998 in Boulder, USA; Tokyo 2002; New York 2004; Sydney, Australia 2008 and Kyoto 2012.
KAKIZAKAI has performed TAKEMITSU Toru's 'November Steps' with NHK Symphony Orchestra conducted by Charles DUYOIT and also under the direction of IWAKI Hiroyuki; HONNA Tesuji; TAKAHASHI Naoshi and with orchestras such as Saint Petersburg Philharmonics, Erzgebirgsensembles Philharmonic Orchestra and Orchestra Nipponica. He performs and teaches in the USA, Europe, Australia, Taiwan and China. KAKIZAKAI has released the CDs 'Koten Honkyoku', 'Koten Honkyoku 2', 'Koten Honkyoku 3', 'Solo Pieces by FUKUDA Rando'.
He is currently a lecturer at the Tokyo College of Music and an instructor at the NHK Culture Centre, and is one of the principal instructors and administrators of the Kokusai Shakuhachi Kenshūkan of which he is the Chichibu head.