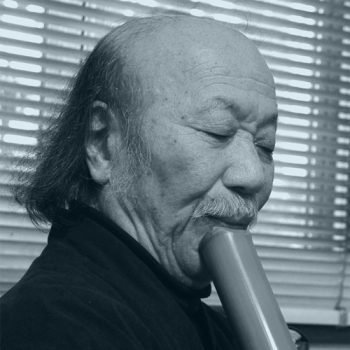 OKUDA Atsuya
Tokyo, Japan
OKUDA Atsuya was blown away by modern jazz in his student years, and after that, when performing as a professional trumpeter, he was deeply moved by composer TAKEMITSU Toru's pieces 'Eclipse' and 'November Steps' and began studying with YOKOYAMA Katsuya, the person who performed these pieces.
OKUDA started his shakuhachi study on a Ranpo flute, made by YOKOYAMA Katsuya's father YOKOYAMA Ranpo. It was through YOKOYAMA Ranpo and son that OKUDA came to know Watazumi Do, and learned from the master of hotchiku, Watazumi's dōkyoku, and became fascinated by the infinite possibilities to be found in the sound of the jinashi shakuhachi. He then turned towards the roots of dōkyoku and received certification from OKAMOTO Chikugai's Myoan Souryu Kai, whose classical komusō koten honkyoku. OKUDA then founded Zensabo Association as a venue for dissemination and teaching this music. He furthermore founded the Bamboo Harvest Group and the Sound of Zen Research Group, and performs classical shakuhachi concerts in Kokubunji City, Tokyo. He received the city's award for cultural contributions.
He has released several CDs, including "The Sound of Zen", and has done numerous concerts and lectures outside of Japan.