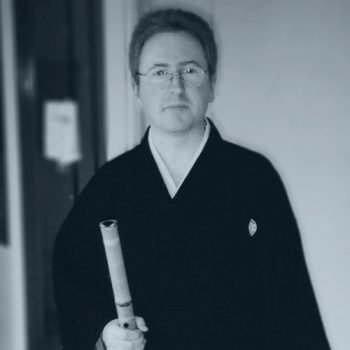 Philip Suimei HORAN
Dublin, Ireland
Philip Suimei HORAN participated in the JET Programme in Japan from 1999-2001. On his return to Ireland, he completed a Masters in ethnomusicology at the University of Limerick in 2002, focusing on aspects of conceptualisation in the shakuhachi tradition and its relationship with acoustics and shakuhachi making.
During his time in Japan, he studied the Tozan-ryu with HANAOKA Seizan in Hiroshima. In Europe, he has studied with Kiku DAY and Jean-François LAGROST. He completed a junshihan in April 2013 as part of Shin Tozan Ryū (France) and teaches shakuhachi to a small and enthusiastic group of students in Dublin. He recently performed with the Paris-based Yamada Ryū koto player, CHIDA Etsuko in a series of concerts in Ireland. Philip HORAN began making his own shakuhachi in Japan and continues to make both ji-nashi and ji-ari shakuhachi.
He often performs shakuhachi with the Dublin-based Japanese player of the Irish harp, MURAKAMI Junshi. They perform a selection of Irish and Japanese folk songs as well as arrangements of shinkyoku for Irish harp. Recent collaborations include performing on the soundtrack to the documentary, A Doctor's Sword (directed by Gary LENNON and produced by Bob JACKSON), about the fascinating story of an Irish doctor in World War II and a Japanese sword. He also regularly performs on shakuhachi and bansuri with members of the Indian Classical Music Society of Ireland.