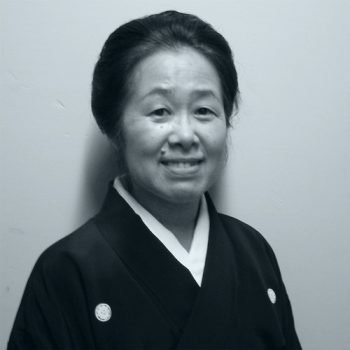 SATO Kikuko
Isehara, Japan
SATO Kikuko started learning koto and shamisen from her mother from a young age. At the age of 25 she graduated from NHK Ginosha Ikuseikai (Association for promoting technicians of Japanese music). SATO graduated from Tokyo University of Arts in 1985 (majoring in Ikuta Ryū Sōkyoku), and completed her post-graduate studies in 1987.
SATO has performed and taught both in Japan and abroad. From 1988 SATO has performed in the United States (Chicago, North Caorlina, Spokane, Hawaii, Boulder), Turkey, Hungary, China, Russia, Colombia, Sweden, France, Switzerland, Czech Republic, Germany, Slovakia and Sweden, among others.
From 1994 to 1996 SATO worked as an assistant at Tokyo National University of the Arts, and passed the NHK Audition in 1997.
Currently a member of the Miyagi Kai and Mori no Kai, and teacher at Shoin Junior and Senior High school.
SATO is a member of Yamato Ito Take which has released 5 CDs, as well as being part of the Mutsunowo Ensemble, and took part in the recording of the CD 'Dragon-Quest Zipang World'.