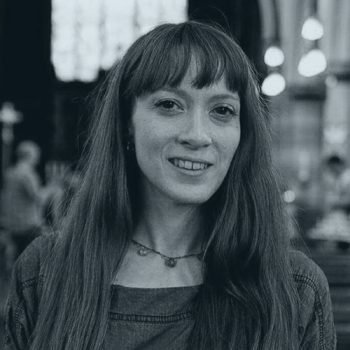 Verity LANE
London, UK
Born in Tottenham and spending over a decade in Japan, composer, artist and producer Verity LANE specialises in creating highly visual soundscapes for traditional Japanese instruments.
LANE began her compositional studies with the late Indian composer John MAYER at age 11, before going on to complete a BA Hons in Japanese and Music at London's School of Oriental and African Studies (SOAS). She then completed an MA in composition at Osaka College of Music, Japan, where she focused her studies on traditional Japanese music and aesthetics.

Verity LANE's work is highly conceptual, collaborating with artists in the field of dance, animation and film, as well as other creative mediums. Her works are steeped in traditional Japanese aesthetics, and are often described as dramatic performance-based musical expressions.
Her recent multimedia projects include 'Yugenism: Animated Soundscapes of the Japanese Sublime' (supported by Great Britain Sasakawa Foundation) and 'Japanese Sandscapes: The Tale of Mt Fuji' (supported by Great Britain Sasakawa Foundation and Daiwa Anglo-Japanese Foundation), where she worked with artists including ISHIKAWA Ko, Etsuko TAKEZAWA, ASO Kaho and Beibei WANG. Both projects saw LANE launch herself within London's experimental music scene, selling out venues across London.