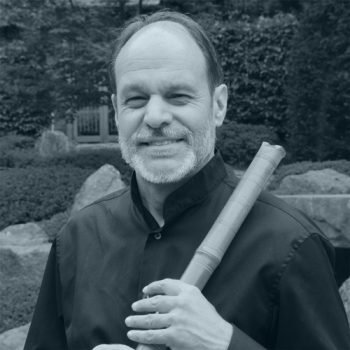 Jim FRANKLIN
Ingelheim am Rhein, Germany
Dr Jim FRANKLIN is a master performer of the shakuhachi. He initially studied composition, in Australia (with Peter SCULTHORPE), Germany (with Milko KELEMEN) and Holland (with Ton de LEEUW), and ethnomusicology in Australia (with Dr Allan MARETT). During his undergraduate studies he encountered the shakuhachi through recordings, and was fascinated by it. After a period of postgraduate studies in Europe, he had the opportunity to commence learning the instrument in Australia with Dr Riley LEE and later in Japan with FURUYA Teruo and YOKOYAMA Katsuya. In 1996 he received the title shihan (master) from YOKOYAMA sensei, and was thus officially licensed to teach and perform shakuhachi.
As a composer, FRANKLIN is currently active in the areas of contemporary and electroacoustic music, closing the circle to his earlier activities as composer. He now composes for shakuhachi solo and in combination with other instruments, and frequently performs projects with shakuhachi and live electronics, sometimes in combination with dance and video art. The interface between shakuhachi and electronics is a key area of interest.
A further focus of his current activities may be found in shakuhachi-duo performances with his wife, SUGINO Hiroko. In the area of solo shakuhachi, FRANKLIN has specialized in the honkyoku of the school of YOKOYAMA Katsuya (Kokusai Shakuhachi Kenshūkan) and in modern music. Since 2004 FRANKLIN has lived in Germany. From 2006 to 2009 he was founding Chairperson of the European Shakuhachi Society.