Michael Chikuzen GOULD
Cody, USA
Michael Chikuzen GOULD lived in Japan from 1980 to 1997 and studied shakuhachi under renowned masters TANIGUCHI Yoshinobu and YOKOYAMA Katsuya. He earned a shihan (Master of shakuhachi) in 1987 and was given the name Chikuzen. In 1994, he became one of only a handful of non-Japanese to hold the title of dai shihan (Grand Master of shakuhachi).
After returning to the U.S., Chikuzen taught zen buddhism and shakuhachi at the University of Michigan, Oberlin College, and Wittenberg University. A full-time shakuhachi teacher, he now offers private lessons in person and via webcam, multi-day intensive retreats for groups and individuals, and group workshops. Rooted in tradition and personal experience, Chikuzen is known for his innovative and effective teaching techniques, his personalized sound, and his skill at communicating about both history and spirituality through shakuhachi. He has students in 12 different countries and from all over the United States, ranging from beginners to shihan-level.
Chikuzen has performed throughout the United States, as well as in Japan, Canada, and Australia. In addition to performing solo and with traditional Japanese ensembles, Chikuzen has collaborated with artists from other musical traditions, including taiko drums, Chinese harp, pipe organ, violin, and percussion. He appeared in the world premiere of the opera "Madame Butterfly" using Japanese instruments, performed Karl JENKIN's 'Requiem' with the Metropolitan Detroit Chorale, and provided the music for the Dance Company of Ann Arbor at the University of Michigan in a presentation of the works of Mary CASSATTE. He has recorded seven albums (solo and collaborations), produced one DVD, and co-authored two shakuhachi scorebooks.
Chikuzen lives in Cody, Wyoming, near the East Gate of Yellowstone National Park.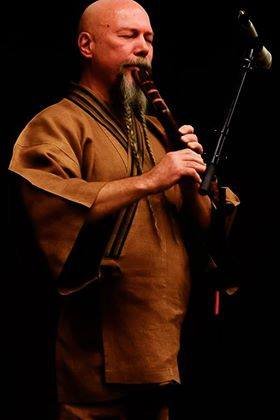 ---
Stage photo by Harold Bjork