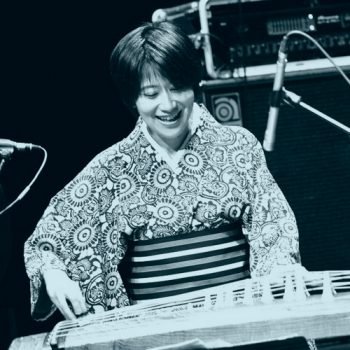 MIYAZAKI Mieko
Paris, France
MIYAZAKI Mieko was born in Tokyo. After being accepted into the Tokyo National University of Fine Arts and Music, her training finished with an invitation to perform as a soloist in the presence of the imperial couple in Japan. She graduated in 1992, and the following year she was awarded the highest distinction by the national radio NHK-FM (Japan Broadcasting Corporation).
Chosen by the Japan Foundation to represent Japan during international cultural events, she performed in various concerts in Asia, Europe and throughout the United States. In 2003, her work 'The Current' (CD Columbia Records-Japan for the duo 'East Current') for koto and shakuhachi, which was directed by FUJIWARA Dozan, is considered one of the thirty most beautiful compositions of all time by the Hogaku Journal specialists, The Kotoby. This recording brings her total to nine albums currently distributed in Japan as well as others in the United States.
On moving to France in 2005 as an unknown musician with an instrument equally unknown in Europe, she became recognised immediately and soon established herself worldwide as one of the leading figures in Japanese koto, pushing the limits and capacities of her music and the instrument in many different music genres as a soloist and in collaboration with numerous artists.
In 2014, she was invited to the Violin in the Sand Festival where she played her composition 'Hachigatsu' with an orchestra. In 2015, seeking greater exposure for the koto and Japanese music in general, she appeared on The Voice on the French TV network TF1 and the La boite a Musique show with Jean-François ZYGEL on France 2. The same year she also created the duo Dankin with jazz saxophonist Franck WOLF, recording on the WM Music label and performing at the 2015 Paris Jazz Festival.